Description
Windows 10 Home / Windows 10 Pro
Latest 7th Gen. Intel® Core™ i7 processor
Latest GeForce® GTX 1070 8GB GDDR5
17.3″ Full HD (1920×1080), 120 Hz Refresh Rate and 3ms response time panel (Optional)
17.3″ UHD (3840×2160), IPS level panel, 100% Adobe RGB (Optional)
Exotic sporty aluminum alloy design
Per-Key RGB gaming keyboard by SteelSeries
5X bigger Upgraded Giant Speakers and sound by Dynaudio for captivating realism
Cooler Boost 5 – Revolutionary cooling module for enthusiastic gaming
MSI Exclusive USB lighting technology
Exclusive Super RAID 4 (Dual NVMe M.2 SSDs by PCIe Gen3 X4 in RAID 0) (optional)
Exclusive ESS SABRE HiFi DAC for lossless, high-quality audio
The X Boost function from MSI technology supports faster storage access speed.
Dragon Center provides six functions to get a total control of your personal computer
WTFast free premium license for 2-month
The latest USB 3.1 SuperSpeed+ interface built in
USB Type-C reversible plug
Exclusive SHIFT technology boosts performance under controlled noise & temperature
Nahimic 2 Sound Technology delivering 360⁰ immersive audio experience
True Color 2.0 Technology for increased color contrast and greater image detail
SteelSeries Engine 3 with GameSense to personalize your play style
Killer DoubleShot Pro (Killer Gb LAN + Killer 802.11 a/c WiFi) with Smart Teaming
Xsplit Gamecaster 1 year free premium license for broadcasting, recording and sharing
Matrix Display supporting 4K output up to 2 external monitors
Promotion
WORLD'S FIRST PER-KEY RGB LAPTOP WITH GAMING KEYBOARD BY STEELSERIES. SHINING IS JUST THE NEW MUST.
Through Per-Key illumination of the keyboard, you may receive real time game stats like ammo levels, health levels, tool durability, and take immediate actions, gaining full control of gameplays. Every hardware detail of this keyboard is also calculated and especially designed for professional gamers' needs. The keyboard has ergonomically-designed keys with 1.9mm of key travel for better responsive and tactile feedback, optimum WASD zone and support of anti-ghosting capability for up to 45 keys. Mechanical-level Shielding solution makes the gaming notebook keyboard the most solid ever. All these gaming features are all designed for gamers to gain full command over gaming missions.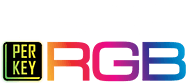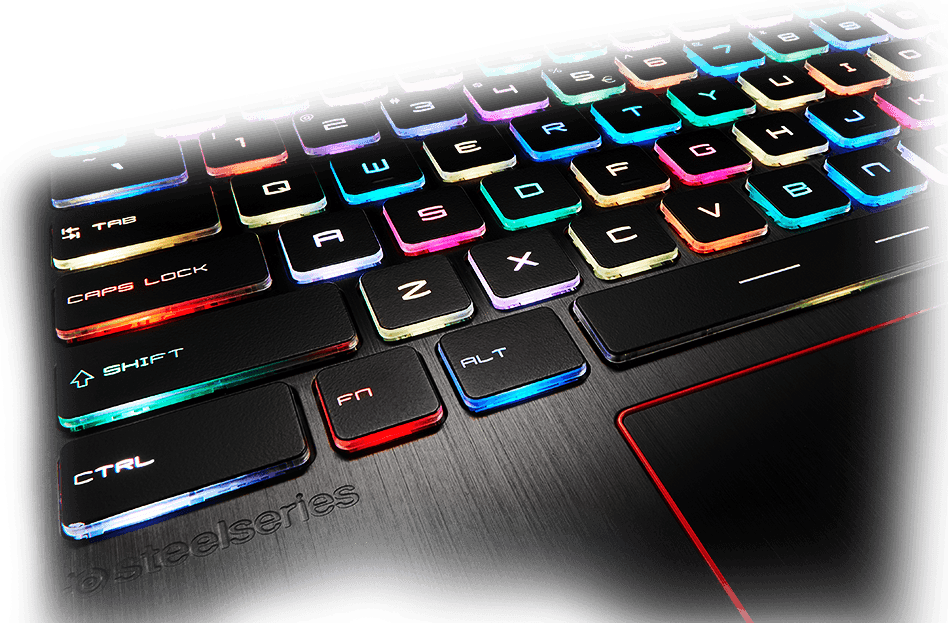 REVOLUTIONARY COOLING MODULE FOR ENTHUSIASTIC GAMING
The latest MSI Cooler Boost 5 excels as a dual thermal modules, adopting dual Whirlwind Blade fans with 7 heat pipes and well-endowed 4 airflows in the revolutionary cooling module. It ends up intensively and efficiently driving exhaust heat out of the system, raising the cooling technology to the highest level of its kind. Especially design for GTX 1070 level graphics with greater performance and lower temperature.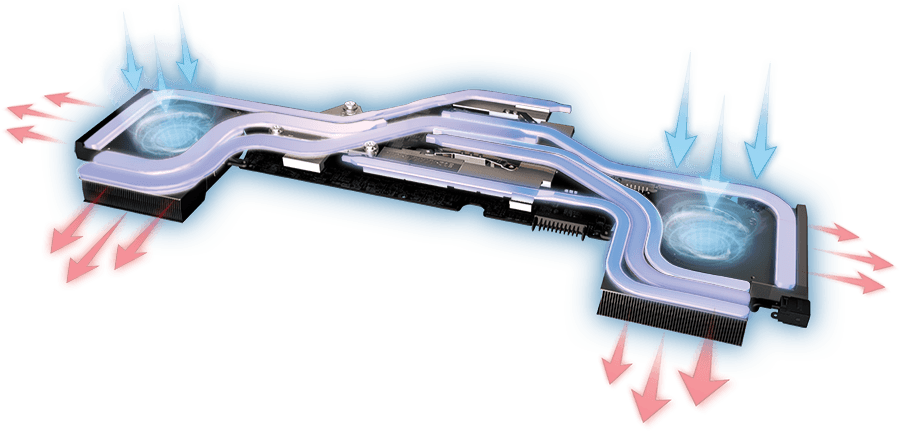 5 TIMES BIGGER THAN OTHERS LOUDER SOUND, MORE RESONANCE, AND HIGHER QUALITY
End-users can feel every engine sound waves roaring past with upgraded giant speakers and world-class Dynaudio sound system. Exclusive audio module design and independent resonance space for top-notch auditory sensation. Oversize 2 speakers + 2 woofers creating a realistic, fulfilling sound and immersive effects. It allows gamers to step into an incredible sound feast with highest satisfaction!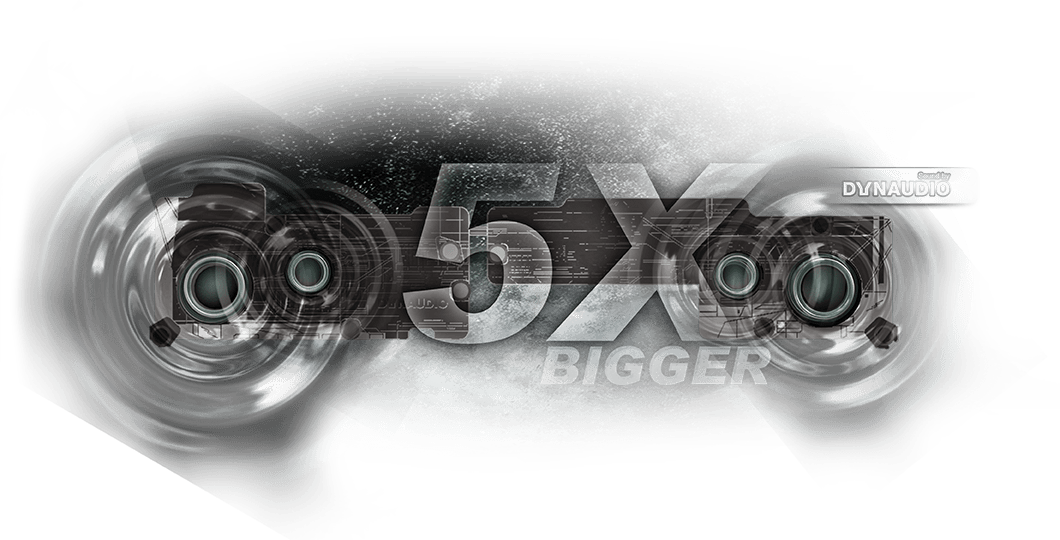 DON'T EMBARRASS YOURSELF LOOKING FOR AN USB PORT
MSI exclusive technology helps you find the USB port instantly, especially in the dark.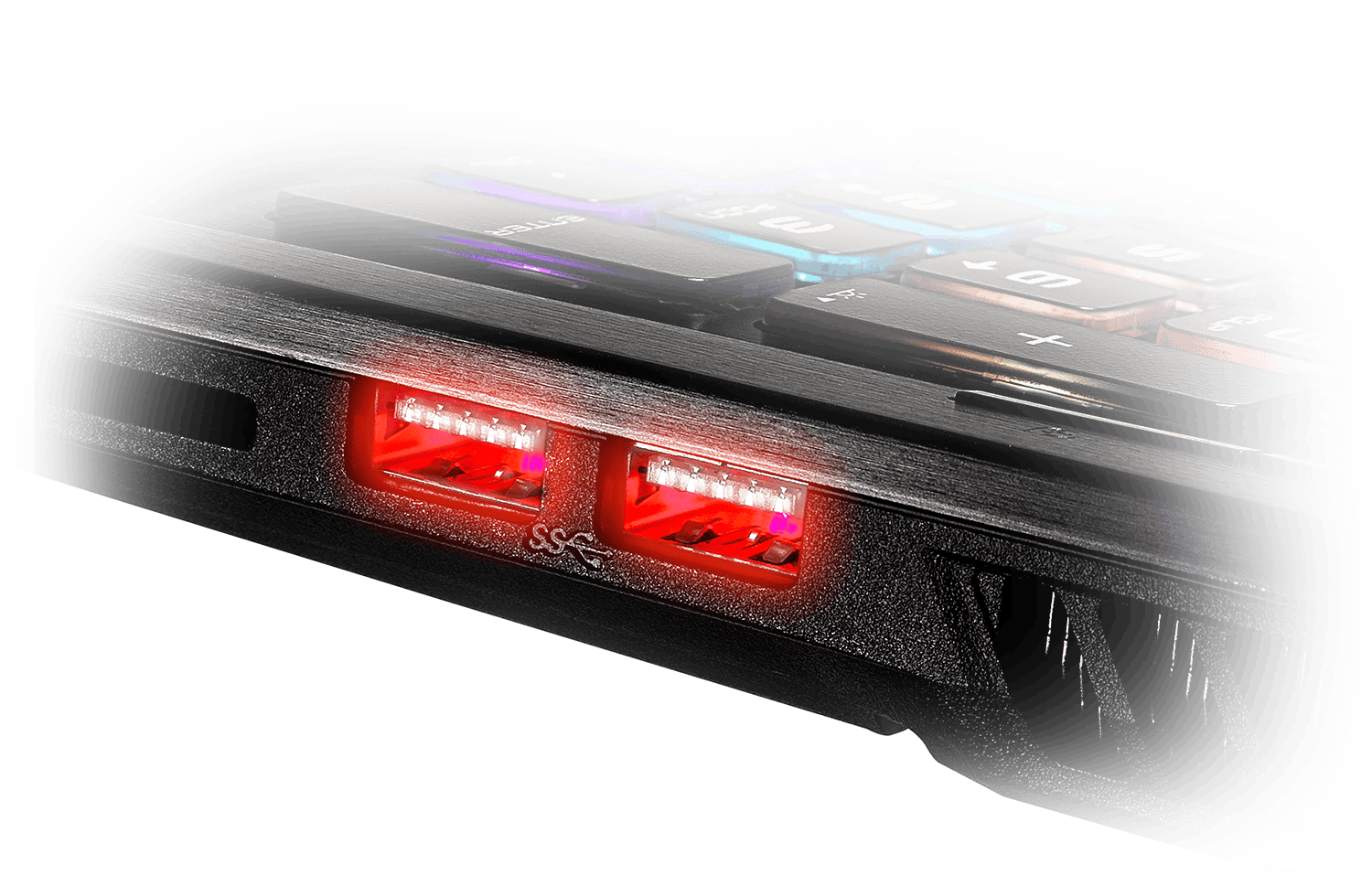 Visuals
METALLIC CHASSIS WITH BRUSHED METAL DESIGN
Elegant brushed aluminum chassis, creating an ideal fusion of aesthetics and performance.
*Only MSI logo is backlit
GEFORCE GTX IS PC GAMING
Get Game Ready with GeForce GTX-Powered Gaming PCs.
This is the ultimate gaming experience, fueled by the fastest performance, most advanced gaming technologies, and best gaming ecosystem.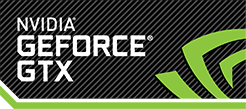 PERFORMANCE
GeForce GTX 10-Series GPUs give you up to 3X the performance of previous-generation GPUs. They're built with ultra-fast FinFET, the latest high-bandwidth memory technologies, and support for DirectX 12 features to deliver the fastest, smoothest gaming notebook experiences.
NVIDIA'S LATEST GEFORCE® GTX 1070 GPU IS READY TO AMAZE YOU ON MSI GAMING NOTEBOOKS
MSI is the world's 1st gaming notebook to have this latest NVIDIA next gen. GPU solution onboard. Performance of NVIDIA's next generation GeForce® GTX 1070 GPU is expected to improve more than 40% than GeForce® GTX 900M Series. With the innovative Cooler Boost cooling solution and MSI's special gaming features catered for gamers, the NVIDIA's latest GeForce® GTX 1070 GPU shall be able to release its full performance completely on MSI gaming laptops. By offering "one click to VR" solution and a totally immersive and smooth gaming experiences, the new MSI gaming laptops is going to shatter desktop performance cliché and amaze gamers with refreshing point of views on MSI gaming laptops.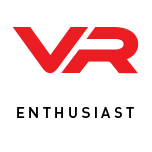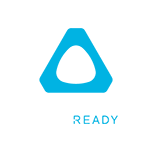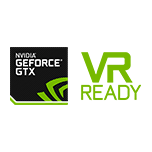 EMBRACE THE ENTHUSIAST LEVEL VIRTUAL REALITY EXPERIENCE
The perfect combination of MSI gaming laptops and Nvidia next gen. graphics (GeForce® GTX 1080 / GTX 1070 / GTX 1060) shall bring you the enthusiast level of VR experience. Certified by both Nvidia and VIVE, MSI is the 1st VR ready gaming laptop brand. We provide an exceptionally smooth, powerful mobile platform for ultimate VR games. Perfect for you to immerse in the amazing artificial world and explore new ways of gaming.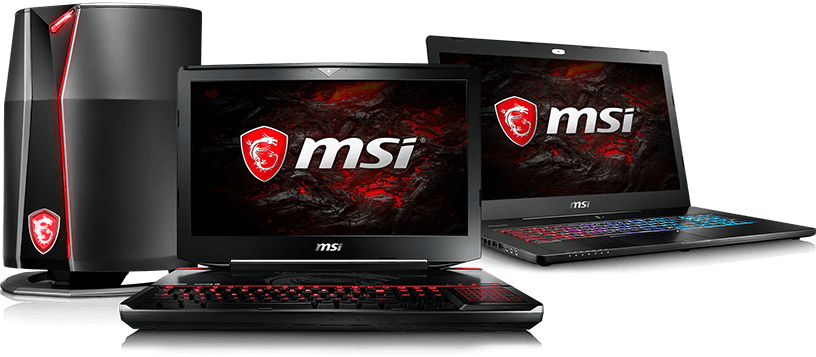 WIN BY A MILLISECOND FASTER– WORLD'S FIRST 120HZ 3MS GAMING (OPTIONAL)
As the only gaming laptop with Full HD at 120Hz refresh rate and 3ms response time panel, this is the go-to companion you can count on to never lose a detail during chaotic gameplays. The level of realism is drawn from the panel's ability to produce up to 120 picture frames per second, topped with 94% NTSC Color Gamut calibration to bring you the most vibrant visuals for your ultimate entertainment pleasures.
*World's first on Gaming notebooks. This feature may vary by SKU and country.

MULTI-TASK WITH UP TO 3 MONITORS
Expand the vision for extreme gaming experience. MSI innovative Matrix Display supports up to 2 external displays simultaneously through 1x HDMI port* and 1x Mini DisplayPort 1.2. Multi-task is made possible even during competitive gameplays. Connect the laptop to HDTV display, Matrix Display supports 4K output with a resolution up to 3840 x 2160. MSI Matrix Display technology creates an ideal environment for extreme gaming experience and pleasant multimedia entertainment.
*GT Series/ GE Raider series : HDMI 4K@60Hz *GE / GP / GL / GF / GV Series : HDMI 4K@30Hz

TRUE COLOR 2.0 THE NEXT-TO-PERFECT COLOR PRESENTATION
Nothing is perfect, but closing in on perfection is as close as it gets. MSI True Color Technology, partnered with Portrait Displays, Inc. spawned a new height for the display technology. Each panel will undergo thorough examinations and an extensive factory calibration process so that each color is presented with the utmost precision in details, guaranteeing exceptional color fidelity of close to 100% sRGB. The 2.0 version offers better accuracy and compatibility, as well as intuitive user-friendly functions.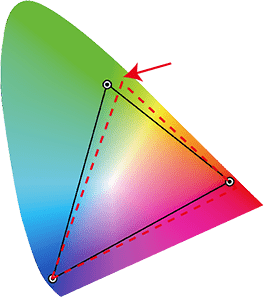 Adjusted to the correct range
Color Visible Range 100% sRGB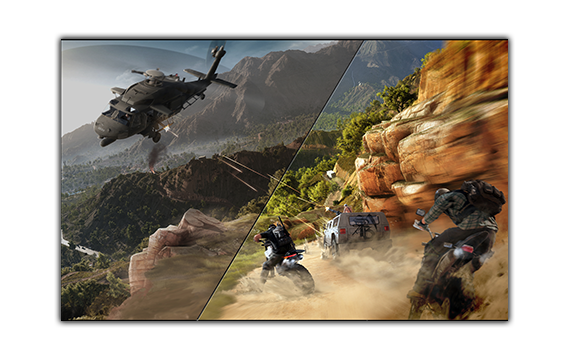 Color display accuracy enhancement
 Auto Cloud stores color management ICC profile
 Higher compatibility for games
 Anti-blue night shift
 Color accuracy calibration

ONLY EVERYTHING IN 3D!
TriDef VR enables gamer to play their favorite games in 3D on your HMD(head mounted display). DirectX 9,10 and 11 games have been pre-configured to generate an optimal 3D experience using GenMe's industry leading 2D-to-3D conversion technology. TriDef VR allows users to tweak their HMD to provide optimal user experience. It is compatible with both Oculus Rift and HTC Vive. It also offers an unique head tracked, hands-free user interface to allow users to launch games at will while wearing HMD.
Most importantly, MSI offers a 3-month free license to let gamers to fully benefit from the TriDef and get more from their VR.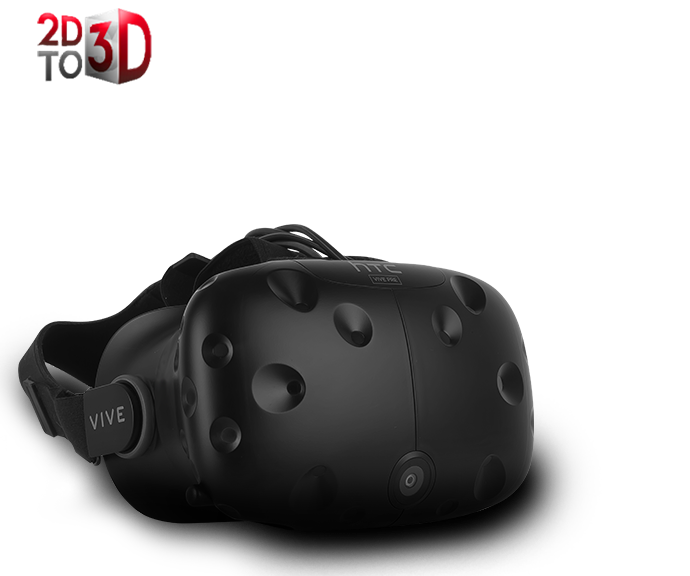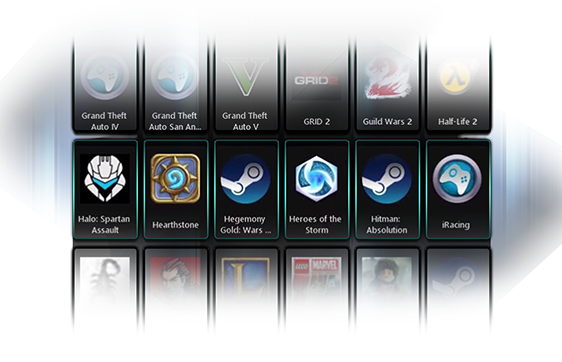 Bring PC game into VR world – Optimized with 900+ game title
 Not just VR, also stereoscopic 3D – More reality and more fun
 Various VR HMD supported – Support Both VIVE and Oculus Rift
 Easy one step on screen setup – Hand free control all setting via HMD
 MSI offer a 3-month free license!
7TH GENERATION INTEL® CORE™ i7 PROCESSORS
With the innovative Cooler Boost 5 cooling solution and MSI's exclusive gaming features catered for gamers, the Intel Core i7-7700HQ releases its full performance completely on MSI gaming laptops.
* This feature may vary by SKU and country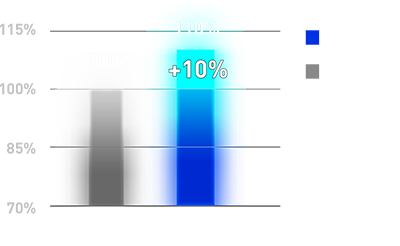 SUPER RAID 4 STORAGE – LOAD GAMES IN SECONDS
Get in the game before everyone else with Super RAID 4, MSI's fastest RAID 0 storage configuration. Combining dual M.2 PCI-E Gen 3.0 x4 SSD's utilizing NVMe technology, harness the full performance potential of the Gen 3.0 SSD through the optimization of the hardware and software outputting extreme read speeds over 3300MB/s. Load games works in seconds!
*This specification may vary by model.
LATEST ARCHITECTURE DDR4-2400 MEMORY SUPPORT
Get the best possible performance out of your notebook with support of the advanced DDR4-2400 memory, achieving over 32GB/s in reading speed and 36GB/s in writing. With over 40% faster performance than previous generations DDR3-1600, DDR4-2400 is the new laptop standard to take your extreme gaming experience to the next level.